G3 Industrial Solutions offers customers access to ELGi's portable air compressors for both sale and rental solutions. ELGi's portable air compressors are designed to offer higher efficiency, productivity, and ease of use in supporting compressed air requirements for rugged environment and remote areas. With over 50-years of experience in the market, you can be assured whatever your industry, ELGi's portable compressors are built to handle it.
DIESEL POWER PORTABLE TOW-BEHIND 90-1000 CFM
Portable, trolley-mounted diesel air compressors are reputed for their reliability and ruggedness. Available in single- and two-stage models. They are used in a wide range of applications from jack hammers, rock drills, impact wrenches and chipping tools to sand blasting. These portable machines provide instant compressed air to your most difficult and compromised work sites.
DIESEL POWERED UTILITY MOUNT 185 CFM
The ELGi DS185T4F utility mount has all of the same power and performance of our larger towable 185 unit. With the smallest footprint in its class, it takes up less than 33″ of deck space, and is designed to be mounted on public works, utility, and contractor vehicles. Three-Year Kohler Warranty and a Five-Year, Unlimited Hour Air-End Warranty.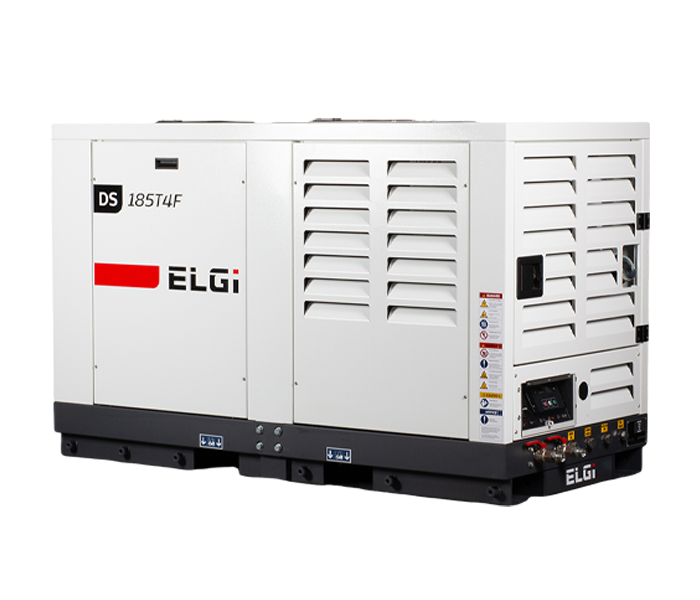 PORTABLE AIR COMPRESSOR DS185T4F
The utility mount version of our larger towable 185 unit providing the same power and performance. Convenient operation and maximum operator safety.
View Product
---
Financing available
Financing options are being offered by G3 Industrial Solutions to help you maintain your ​cash flow and financial budget. Financing can be used for equipment (air compressor, air dryer, etc.) or the complete turnkey installed compressed air system.